Why online Tajweed Quran classes are becoming more popular than Physical Quran Madrassas, the reason for the popularity of Online Tajweed classes is ease, comfort, and interactivity study which study. Most people living away from local Quran Madrassas prefer to learn Quran Tajweed online. 
Online Tajweed classes provide many facilities to learn Quran Tajweed at home with a certified Quran teacher.
In addition, there are a lot of advantages of learning Quran Tajweed online that we are going to discuss in this article. We not only highlight the benefits of the online Tajweed-Ul-Quran Course but also we'll compare it with physical Tajweed classes. 
Benefits of online Tajweed classes or Physical classes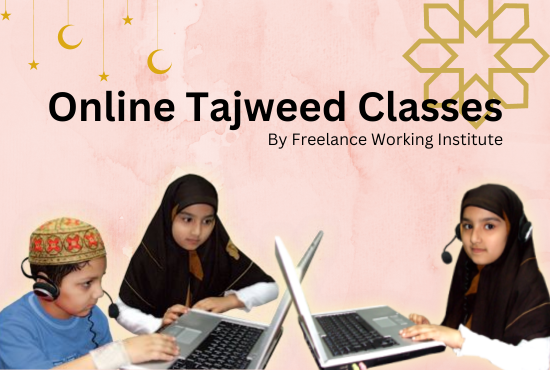 Here are some reasons that matter a lot in comparison between physical and online Tajweed classes: 
The first and foremost benefit of the Tajweed Quran course is that you don't have to go too far from Islamic centers and expand a lot of money on transport fares. In the case of online Quran classes, you can save your transport expenses by learning Quran at home. 
In addition, some parents would prefer to send their kids alone to Madrassas to attend physical Tajweed classes.
But in the case of online system, you can keep sight of your kids and ask them to take Quran class in front of your eyes. In this way, you'll be satisfied that your kid is learning Quran with dedication. 
Record online Tajweed classes Lesson
One of the benefits of online Tajweed-Ul-Quran lessons is that you can record or download Quran lesson and see it after the class. If lectures are video based and recorded, then it's excellent for you because you can take them repeatedly to get a better understanding.
(That's why FWI designed video-based recorded lectures). After completing the course, you'll get lifetime access to lectures that will help you revise your Tajweed concepts. 
It's a fact that physical classes demand a lot of fees and other expenses, including payments for paper funds, textbooks, notes, etc.
But in online Tajweed-Ul-Quran Courses, you have to submit a reasonable fee to help you learn Quran with complete satisfaction.
Some online Websites offers fee for teaching Quran Tajweed but some offer Free Tajweed-Ul-Quran Course. For example, Freelance Working Institute offers a free online Quran Tajweed course. 
Certified Quran Tajweed Tutor
If a website offers online Quran Tajweed classes, they will be certified and qualified Quran teachers. It ensures you'll get better Quran study through an online Tajweed tutor.
In addition, some websites allow you to choose a Quran teacher of your choice, even you can replace that teacher with your desired one. 
Pdf Text Books and Worksheets

 
In physical Quran learning, you must spend a lot of money buying textbooks, worksheets, and high fees. But on the other hand, learning Quran in online classes provide free textbooks and free worksheets in pdf. This way, you can save a lot from your budget and learn Quran Tajweed at home. 
Schedule Flexibility is the utmost advantage of learning Tajweed online. As we know, we must join the Quran class in Madrassas at a specific time.
But in an online system, some websites offer one-on-one Tajweed classes for students in which you can select the timing of your own choice to teach with a Quran tutor. 
One of the benefits of Quran classes is that you and your kids can get interactive learning of Quran Tajweed. In one-on-one classes, the student can directly interact with the online Tajweed teacher either via WhatsApp, video, or audio call.
But in physical Quran classes, many students learn Quran together in the classroom. As a result, some students are shy and hesitate to ask questions related to the lesson with the teacher in front of other classmates.
At the same time, online Tajweed classes facilitate avoiding nervousness and learning deeply. 
Online Tajweed-Ul-Quran Course offers online assessment through digital Quizzes, subjective tests, and pdf worksheets for Homework.
While in physical Quran classes, the test system is not digital, and you've to pay extra charges for printed tests and worksheets. Also, there may be chances for students to solve printed tests or quizzes by cheating. 
Online websites provide international certificates, while physical classes provide local or Islamic center-specific certificates.
After getting the international certificate, you can teach Quran Tajweed online and physically worldwide. For example, FWI offers an international certificate for the online Tajweed course. 
Join Free Tajweed Classes online – FWI.
Freelance Working Institute offers Free Tajweed-Al-Quran Classes online for all Muslims Sisters and Brothers. We've well-qualified male and female Tajweed Tutors to teach Quran online with accurate pronunciation. Register yourself now if you and your kids want to learn Quran Tajweed online. Visit FREE Tajweed Quran Course
Summary – Why online Tajweed classes are better than physical?
To sum up, there are a lot of advantages of online classes in terms of time flexibility, saving expenses, and others mentioned above.
So, If you want to save your transport, books, and other expenses or learn Tajweed online interactively with a certified Tajweed tutor, you must enroll in any FREE Tajweed Course online now.