Requirements
Laptop/Computer
Good Internet Connection
Learn how to grow your YouTube channel with a professional tutor in our YouTube course online!
Success needs time, but accurate knowledge or continuous effort helps you achieve your destination. Nowadays, every person is interested in watching videos either for learning purposes or to find solutions to their problems.
So, it's possible to stand out on this platform by creating a professional YouTube channel, but the main thing is how to grow a YouTube channel. Learn YouTube training course at Freelance Working Institute.
Why YouTube channel?
YouTube is the most successful platform to earn money online. As we know, more than 85% of people prefer watching videos rather than reading an article to solve the problem. It's expected that YouTube will dominate over written content in the coming days.
Besides, YouTube is the perfect platform for educated and uneducated people to understand any message the creator delivers. So, if you want to start your career and earn online, learn online courses on YouTube and start with a YouTube channel.
How to grow a YouTube channel
Creating a YouTube channel is very easy but growing a YouTube channel is somewhat tricky but not impossible!
⇒

By YouTube SEO Optimization
If you want to earn online through a YouTube channel, you should have an excellent command of SEO optimization of your YouTube channel. Yes, it would help if you optimized your YouTube channel accurately. In that case, your YouTube channel will surely grow with a 100% guarantee.
⇒

By YouTube Ads
Besides, you can grow your YouTube Channel by running paid YouTube ads. In this case, you have to pay Google ads to run Ads on your Channel. This way, you will get more views and subscribers on your Channel. Learn YouTube optimization and YouTube Ads course from here! And Learn more about How to get 1000 subscribers on YouTube Channel
.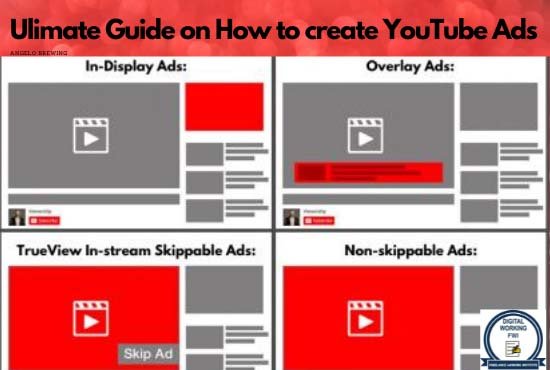 FWI YouTube Course Online
If you're interested in creating and growing your YouTube channel, you must have basic to advanced knowledge about YouTube. To learn these strategies to develop a YouTube channel or be an expert in YouTube skills, join our online classes for the best  YouTube course.
What you'll learn in the YouTube course
In our best YouTube course online, you will learn all strategies to grow a YouTube Channel and all about YouTube Ads. This YouTube advertising course gives you detailed YouTube ads training.
Let's commence what you will learn in online classes on YouTube! See the YouTube Course outline.
How to create a YouTube channel
Quick ways to grow YouTube channel
How to SEO optimize YouTube channel
Keyword tools to find keywords for video title & description
YouTube Tags for ranking YouTube channel
How to get more traffic to your Channel
How to run YouTube Ads for your Channel
Create different YouTube paid Ads to get more views
How to increase Subscribers through Instream Ads
Six ways to earn money through YouTube
Create an eye-catching YouTube thumbnail
Tools for video-editing of YouTube
Earning through Sponsorship
YouTube SEO course Criteria
After registration in our YouTube channel course, say congrats to yourself because You're now starting to turn your dreams into reality. As if you learn attentively and do it practically daily, as explained in our lectures, we assure you that this course is a cup of tea for you.
Yes, it's not complicated or complex for anyone. Instead, this course is designed and taught by a professional YouTuber with 140K subscribers on his Channel.
So, if you focus on practical work, you'll learn and absorb all things easily. Let's know which achievements you'll get from FWI after enrollment in our YouTube online classes. Here you go!
Total lessons: 27 Video-based lectures
Duration: 5-6 minutes for each video
For Discussion: Live chat support/WhatsApp group for YouTube class
Assessment: Assignments + Quizzes
Rewards: Certificate & Resume
Our Vision
We aim to provide YouTube training courses to all people who want to know how to make money at home or earn online at home. In today's world, we find the best & lifetime source of earning by creating video content, publishing them, and SEO optimizing these videos.
In addition, you can learn how to increase Subscribers on the YouTube channel and get more views on the YT channel. Come and join us! If you want this opportunity to make money for a lifetime, then join our online YouTube course for making money online for a lifetime!
There is very tough competition on YouTube, so it has become tricky to rank on YouTube. If you also want to know tips and tricks to grow a YT channel fast, the YouTube SEO Course offered by Freelance Working Institute in Urdu from beginner to advanced level is the best Course for YouTube.
In YouTube Marketing Course, you gain an in-depth understanding of how to market and sell on YouTube, so you can implement the best industry practices to increase the number of views your videos receive through the use of YouTube SEO, YT tips & tricks, YouTube Ads, as well as  YT Live. Improve the number of subscribers to your channel and get your visual content to rank higher by taking the free FWI YouTube Marketing course.
YouTubing is a good career for those interested in making, editing, and uploading videos on YouTube. If you are passionate, you can also generate a lot of income through YouTube. YouTubing means uploading videos and earning money through running YouTube ads. You'll get 55% of your earnings through running YouTube Ads.
Absolutely Yes, FWI YouTube SEO and advertising course are designed for YouTubers in which you will learn how to grow your YouTube channel from zero level to high level. People with zero knowledge about YouTube SEO, YouTube Ads, and Youtube tips and tricks to get more subscribers and views can join FWI Youtube Course online.
Many people can make a living solely from YouTube (through per-view payments and ad sales), even with a large audience. For example, Start Opening, a YouTube channel with about 37,000 subscribers, reports generating 1,600 -1700 dollars per month from views and ad sales.
It may be hard to develop on YouTube but not impossible. If you don't lose hope and keep making an effort, you can become a successful Youtuber. On the other hand, Being a well-known YouTuber takes work. Every well-known YouTuber has endured a long and arduous road to success. Before you can create your initial video, you must put money into the project and complete a set of procedures.
To become a successful YouTuber, having no qualifications is not essential. Instead, you should have a little knowledge of some YouTube tactics and video editing. Fortunately, FWI offers YouTube training for those who are not highly educated to become successful YouTubers and make money online.
According to a research that was just released by YouTube, there are over 395,000 people in the United States who work at least 40 hrs each week as creators on YouTube.
Creating a channel on YouTube is one of the most beneficial things a person can do, particularly in the year 2022. YouTube seems to be a very broad and strong platform that has resulted in the creation of many millionaires; the amount of money that anyone can make using the YouTube platform is so high that it is not even humorous.
One of the most common videos uploaded to YouTube by new users is video Vlogs. It is a fantastic opportunity to present your personality and perspective on the world. And YouTube is a wonderful place to begin, but as you progress, you should think about expanding the kinds of content you provide. But don't spend too much time brainstorming ideas for your first video; be yourself.
YouTube moneymaking is difficult and requires hustle. To participate in YouTube's Affiliate Program, you need 1,000 subscribers and 4,000 view hours during the last twelve months. It can be done by the continuous effort of a dedicated person. If you perform SEO of your Youtube channel from the beginning while creating a channel, you can easily make money as soon as possible.