Best Freelancing Institute in Gujranwala
Do you live in Gujranwala and looking for the best freelancing institute in Gujranwala? Stay here!
Freelance Working Institute (FWI) is a Gujranwala-based online freelancing institute that offers students free and paid online courses. Unemployed people can also learn freelancing courses from our institute to get suitable freelancing skills and start online earning!
Freelancing and Online earning in Pakistan have become more popular. We've launched this online freelancing course platform, especially for Pakistani youth. 
Looking for a freelancing institute in Gujranwala for physical classes? 
Change your Mind Now! 
If you want to earn online, then learn online. If you have a physical job, look for a freelancing institute in Gujranwala for physical classes. 
Read – Why Online freelance training is better than Physical Training?
Physical Classes train you to deal with physical projects as jobs, while our institute is specially launched to deliver Best and most Professional Freelancers to Pakistan. So, we let our students learn skills as well as communication skills. Communication skills include: 
How to apply for an online job? 

How to create your Portfolio, cover letter, and resume about freelancing skills? 

How to send a cover letter? 

How to deal with international clients? 
All these are explained in our Freelance courses so that you can become a successful freelancer on international freelancing platforms. Such training will not be given in the Physical Freelancing Institutes.
That's why we recommend that if you have to do an online job, then don't prefer a physical institute. Instead, join any best online freelancing institutes in Gujranwala. 
Which is the Best freelancing institute in Gujranwala?
In Gujranwala, most people are uneducated, and as a result, unemployment is increasing day by day. For such people, we've launched an online platform named Freelance Working Institute, where you can learn a freelancing skill without going anywhere and start earning online. 
Freelance Working Institute (FWI)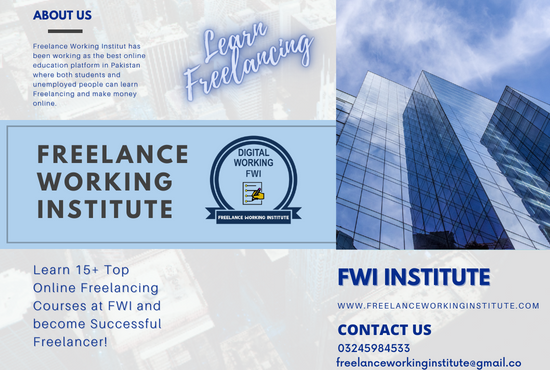 Freelance Working Institute (FWI) has been providing freelancing courses for about 10 years. Till now, we've educated more than thousands of students who've become successful freelancers now! 
For example, Bushra, one of our students, has become Top Rated Seller on two freelancing platforms (Upwork and Fiverr). 
And Samia, who's earning online locally without joining any Freelancing platform. They are such examples through which you can get inspiration and motivation. 
Why Choose FWI for learning freelancing courses? 
Here are the reasons why the Freelance Working Institute is the best freelancing institute in Gujranwala. Explore all points! 
The courses available at Freelance Working Institute are all designed in such a way that a beginner can easily understand. Our expert tutor has used basic and advanced teaching methods for creating online freelancing courses.
We don't conduct live classes on Zoom or Skype because we analyzed that students were missing out on some important points in lectures due to loss of internet connections or other reasons.
That's why we designed Video based recorded lectures in replacement for live freelancing classes. This decision showed us that this method is better than the previous one. 
Expert & Experienced Teachers 
All tutors teaching online at Freelance Working Institute are certified and Experienced in their skills. In addition to their certification, they've good freelancing profiles on multiple freelancing platforms. That's why we allow them to teach at our institute.
Moreover, their teaching method is so interactive that everyone understands and becomes interested in specific freelancing skills. 
Our institute's plus point is that it offers practical training with screen-recorded lectures. In addition, if you can't understand any point in the lecture, you can ask your teacher during discussion time; the teacher will again teach you by recording the screen for your better understanding. 
Once you enroll in any course at Freelance Working Institute, we don't leave you until you become an expert in that skill. 
Becoming the best freelancing institute in Gujranwala is that we conduct Assessment System. Assessment includes Assignments, Subjective Q/A Tests, and Quizzes. We added these assessments for effective learning as well as good practice. That's why our students are experts in freelancing skills, and they now earn online on different international freelancing platforms. 
As FWI is an online freelancing platform in Gujranwala, so we designed all courses in the Urdu Language. As we live in Pakistan, our national language is Urdu. We designed our courses in easy language so our students can easily understand and grasp the information given in lectures. Enroll now to learn a Freelancing course in Urdu. 
If our lectures are video based and provided to you on enrollment. It doesn't mean that we don't offer any scheduled learning. We organize a proper class system. After enrollment in the specific freelancing course, we add enrolled students to the course batch WhatsApp group. 
In the WhatsApp group, one of our team members sends lectures daily in that group. Once students take lectures in the morning, they'll have to appear during the discussion.
Discussion is usually held in the evening (about 7:00 to 8:00 PM). Course tutor opens the group setting to allow all students to discuss lectures, clear queries, and other confusions. Similarly, this process is repeated daily till the end of the course. 
Are you looking for live freelancing classes? Stop here! And change your mind now! You're mistaken if you're looking for live classes to learn to freelance. Because once you take a live class, you'll miss out on many concepts because of any accidental online issues.
But Freelance Working Institute offers video-based lectures; you can take these lectures twice, thrice, and so on. In addition, we give you lifetime access to these lectures so that you may learn at any time of the day if you forget any concept in the future.
Not only lifetime access to video lectures but also lifetime support to our students. Ask any question to your tutor directly on WhatsApp at any time of the day. They will respond to you within 24 hours. 
Freelance Working Institute certification is valid because we don't provide certificates to students until they become experts in particular skills.
In addition, FWI provides an official Certificate that is acceptable worldwide. We think that skill is preferable as compared to your certificate. So, we mainly focus on teaching effectively then comes certification.
Plus, We provide our online freelancing certifications to those who'll complete our assessments, including quizzes, assignments, and subjective Q/A tests. After passing our assessments, our students become experts in particular skills. 
We are available 24 hours to respond to our customers whenever they need guidance or queries to clear. Our team members not only give information about any online courses to become Freelancers but also suggest the right option for you to start your freelancing journey. We've 5+ customer consultants that respond to you within 12 hours to answer your questions. 
Some websites ell students about creating a portfolio and some tactics to apply for jobs. And they ask them to make a Resume by themselves. But we think a resume represents a freelancer and should be attractive.
Freelance Working Institute is the best freelancing institute in Gujranwala due to reason. It also provides an Attractive resume to students just because they are beginners and don't have enough experience to attract clients. 
Freelancing Tips & Tricks 
As our online teachers are Experienced and have suffered with freelancing, so they know all tips and tricks to attract clients and get hired at first. Fortunately, they have shared tips and tricks about any particular freelancing skill in their designed online courses. Don't waste your time and become an expert Freelancer here! 
Free Online Jobs to students
The best trait of our freelancing institute is that we don't leave our students unemployed. Instead, we provide online jobs to our students. For example, we give content Writing jobs to our students.
Suppose we don't need content writing work at any time. Then we provide them, clients. If students remain hardworking and punctual to that Client, they'll never be unemployed online. In addition, we provide marketing jobs to make referrals and earn handsome income.  
Mobile-Based learning (Without Laptop)

 
Some of our courses are designed for beginners; we think that a beginner person usually doesn't have laptops or PC arrangements. Therefore, we've designed some courses that can be learned using mobile phones.
Read – Can I do Content writing on mobile?
After earning some income, you can buy a laptop and move to advanced courses and make progress. Our mobile-based courses include Content Writing, Amazon Virtual Assistant, Social marketing, and others. Visit our popular online courses! 
50% off on special Occasions 
FWI freelancing institute in Gujranwala offers special discounts on fee charges on some events and occasions. For example, Freelance Working Institute had given 50% discounts on online freelancing course fees on Summar Vacation Arrival (June-July), Eid days, World Cup, and other events. 
Our website also allows our customers to fee Concession. Fee concession is only possible in case of making referrals or enrollment of siblings together. If two siblings want to learn a freelancing course, we give 25% discounts for both.
If three siblings or cousins want to learn an online course to become freelancers, then we give a 50% fee discount for those three students. In addition, if a person wants to enroll in more than two courses of our freelancing institute in Gujranwala, we give 40% off in those three courses. 
It's the honor of the best freelancing institute in Gujranwala that students learning here have now become successful freelancers internationally. They are earning online, teaching freelancing online to others, and making money online in this way.
FWI Successful Students 
See Freelancer Bushra (FWI student) 
View Freelancer Samia (FWI student) 
See Freelancer Habiba Arif  (FWI student) 
That's why, We claim that Freelance Working Institute is the best online Freelancing Institute in Gujranwala. 
Courses offered by Freelance Working Institute 
FWI offers 15+ online courses to help you become an expert freelancer without experience or a degree. See our course details. Please have a look at the following freelancing courses list. Now, registrations are open for 
✓ Content Writing Course 
Duration: 20 Days
Fee: 1500Pkr (See More) 
✓ SEO Course
Duration: 2 months 
Fee: 1000pkr (See More)
✓ Google AdSense Course
Duration: 25 Days 
Fee: 2000 Pkr (See More)
✓ Basic Video Editing Course
Duration: 1week 
Fee: 500pkr (See More)
✓ YouTube Domination Course
Duration: 1 month 
Fee: 1000pkr (See More)
✓ Online Tajweed-Ul-Quran Course
Duration: 6 months 
FREE (See More)
✓ Email Marketing Course
Duration: 1 month 
Fee: 1000 Pkr (See More)
✓ Amazon Business in Pakistan (Virtual Assistant Course) 
Duration: 1 month 
Fee: 1500pkr (See More)
✓ WordPress course
Duration: 1 month 
Fee: 1000pkr (See More)
✓ Google Ads Course: 
Duration: 3 months 
Fee: 1500pkr (See More)
✓ Facebook Ads Course: 
Duration: 3 months 
Fee: 1500pkr (See More)
Read – Which is the best Freelancing Course for Beginners? 
Conclusions
If you're searching for the best freelancing institute in Gujranwala, then no online institute could be better than Freelance Working Institute. Other websites also offer online courses free of cost, but they take too long to make you a successful freelancer.
In a short duration, you can become an expert freelancer at FWI. Don't waste your time. Enroll now in any one of the freelancing courses and start learning online today!