More than 70% of people use YouTube to find their required material. Why shouldn't you start a business on a platform where you can easily convert your visitors? If you also want to start your business, creating a video on a YouTube channel is the best way to earn money online. Want to know how much earning Youtube channel can give you as a beginner?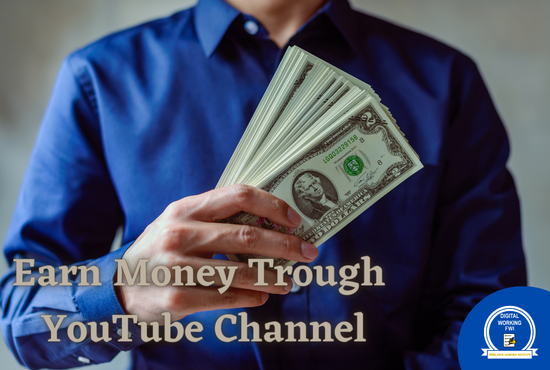 If you need to learn how to optimize your YouTube channel to get more views and subscribers, join FWI Free YouTube Course online in Urdu. 
Can everyone earn through YouTube? 
Not at all. Those who've optimized and organized their YouTube channel get more views and subscribers and eventually rank there. Creating a YouTube channel is straightforward, but more is needed to start earning through YouTube channels. How much Earning Youtube is given to beginners! If you want to get Adsense approval on YouTube, you must optimize your channel. 
How to start earning through a YouTube channel?

 
It's tricky and time taking but not impossible. After creating a YouTube channel, working hard on YouTube SEO is essential.
If you need to optimize your YouTube channel, you can learn the Full YouTu, be SEO course Free in Urdu offered by Freelance Working Institute (FWI). In this course, you'll learn how to earn through youtube!
4 Steps to Rank YouTube Channel

– (How much earning on Youtube)
✓ Quality Content
As we know, content is king in terms of SEO, whether it's Google or YouTube platform. Notably, the video on your channel must be of high quality. High-quality videos include 1080HD video quality with clear sound (no background noise). 
If your video is about brand awareness, having a professional video layout is compulsory. Because a professional look positively impacts viewers, if your visitors trust you, they'll likely turn into your customers. Start making youtube money today!
✓ YouTube Channel SEO
YouTube SEO includes titles, descriptions, tags, thumbnails, and video content. If you want to rank your YouTube channel, get more views, and get 1000 subscribers fast, do your YouTube SEO. Search your niche keywords and check KW  traffic volume, competition, and SEO difficulty.
After selecting suitable keywords, use them in the title, description, thumbnail, or even in the voiceover of your video. Speak keywords more times in your video because captions also help your video to rank on YouTube. In addition, you should also explore Top-earning youtube channels and get the tag, title, and description ideas from there.
✓ Sharing on Social Sites
Remember to share your YouTube videos on different social sites. The reason to share YouTube videos is to get more views on YouTube videos. As a result, it'll increase your watch time. You should share YouTube videos on Facebook, Instagram, Twitter, WhatsApp, Groups, Telegram, etc. I assure you that if you don't work hard, YouTube will not reward you. 
✓ YouTube Ads
Little Investment in YouTube Ads always gives you more revenue to generate. Don't hesitate to run YouTube Ads for your YouTube videos. If you're a beginner and need more views or subscribers on your channel, we suggest you run YouTube Ads and start earning youtube.
Once, you'll contact traffic on YouTube channels through YouTube Google Ads. You'll not need to do anything or invest any penny to grow your YouTube channel. Undoubtedly, top-earning youtube channels in Pakistan are running Ads to rank YouTube channels.
✓ Learn YouTube SEO Course
I must learn how to set up YouTube Ads and learn YouTube SEO Course Free in Urdu. Now, many free YouTube courses free available to grow YouTube channels.
But choosing the right platform to learn YouTube Domination Course online is essential. If you don't want to waste your time searching YouTube courses online free in Pakistan, we recommend the best YouTube SEO course online in Urdu. 
As Freelance Working Institute offers this course, it's no doubt it will cover everything related to how much earning on the youtube channel is possible. You can now learn free YouTube SEO and Ads training at Freelance Working Institute.  
Summary

– Earning on Youtube Channel
It has become easy for beginners to grow a YouTube channel fast and make money on youtube channels in Pakistan. Just follow our five steps to get more YouTube viewers and subscribers.
After reading this blog, we hope you've got an idea about how much earning on youtube is possible for beginners. In addition, you can also take the Best YouTube SEO Course Free in Urdu to learn all about YouTube SEO and YouTube Ads practically. 
Frequently Asked Questions
What is the estimated cost of 1000 views on Youtube?
YouTube's 1000-view price is between $0.003 and $0.005. If a video gets 1,000 views, the creator receives $3 to $5. Use Google's AdSense revenue tool to assess your potential annual YouTube earnings.
Does YouTube Pay Monthly to YouTubers?
AdSense payments are processed once each month. Your profits are approximated each day and then confirmed and added to your Payments account balance at the start of the following month.
How much earning youtube channel is possible with 10,000 subscribers on Youtube?
A YouTube channel's financial potential becomes significantly more open with that many subscribers. While some media make only $1 for every 1,000 marketed views, others might make as much as $7.
How much do YouTubers in Pakistan get paid for " Youtube Shorts"?
47%. To compensate creators for their work on YouTube Shorts, YouTube will fork over 47 percent of the money made by the service from its premium subscription service. Money from YouTube Premium is used to offset the price of music royalties. Depending on their subscription Shorts' popularity in a particular country, creators may receive royalties.
Can I purchase YouTube views?
Suppose you want more people to watch your videos on YouTube and start making money from Youtube sooner. UseViral provides several packages, allowing you to buy from one thousand to four thousand watch hours at once, all at very reasonable rates.
Will you get paid for Youtube Shorts?
Yes. YouTube used its $100 million Shorts Fund to compensate award-winning filmmakers in 2021 and '22. Beginning in 2023, Shorts will be eligible for profit sharing and Fan Financing.