Content Writing Tips for Freelance Writers
Want to get excellent feedback on your content writing project from your clients? Do you have a desire to become a successful freelance writer? Stay here! 
Every client always looks forward to geta a fantastic and rankable article from a freelance writer. You can also become a project-winning freelance writer now! In this article, we're going to explain detailed information, tips, and tricks that you can Apply while writing content for your clients. 
This article is written by a Successful Freelance Writer Bushra Mughal who's done 1000+ content writing projects on Upwork and Fiverr. And we guarantee you that you'll become a great freelance writer after reading and implementing all tips mentioned in this article!
How to create a Unique article?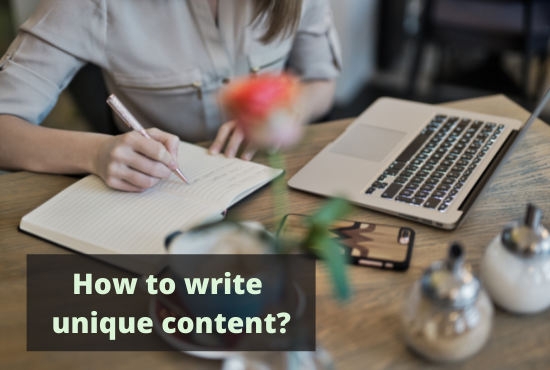 It has become very easy to write 1000 words within two to three hours. How? Let me tell you some tips and trick though tricks you can also become a successful freelance writer worldwide. Follow steps.
Search your topic on Google.
Pick and read two to three articles on top of the search results list on Google. 
Get your needed content from these websites. 
Create a unique format of your article by taking content from Other websites. 
Now it's time to make the content unique! 
Read your copied content carefully and write this content in your own words. 
Paraphrase that content and write naturally. 

Not even two words should be matched with Google results. 

Now insert keywords naturally in this Content, title, and headings to optimize the article SEO. 

Now make your article well presented. 

Check Grammar of your content using Grammarly Premium. 
Check plagiarism using Copyscape or Turnitin. 
If your content is 100%plagiarism-free, you can submit it to your client.
It's a general method of writing content as a freelance writer. But here are some tips for all writers who desire to be successful freelance writers worldwide. Let's look at all the information to become a  Successful Freelance Writer! 
8 Content Writing Tips – Become an expert freelance writer
1. Keep Your Content Well-Presented
The most noteworthy point is that how can you make your article good-looking? How can you impress your clients with your writing? Your article Presentation and Formattingmatters a lot!
The presentation of your report is a cup of tea for you as a freelance writer. If you want to get good remarks from your client,s then keep your content well-presented. The presentation includes the following points: 
Headings:

Distribute headings from H1 to H5. H1 is the title heading. Keep your main headings as H2 and Subheadings as H3. Under H3, another heading would be H4 and then H5. Usually,y the font size for the heading is 18pt. You must bold the heading text.

Quotes:

Whenever you use any Quote, write a quote in

Italic

font.

For example,

 "A thing of beauty is a joy forever.".

Set this Quotation in the center of the article. Don't forget to write a citation below the quote. 

Bold

: Always bold the important points in your content such as date, great personality, important event or famous place e, etc. In addition, you must bold the main focus Keyword and all sub-keywords used in the content.

Text Color

: Always keep your full-text color black,k, but you can use just blue for y

Font Size:

 First of all, the font size of all your text must be 12pt. 

Font Style:

 Most commonly used font styles for article and blog posts of websites is Robot, Calibri, Aria,l, and Helvetica.

Title:

 Title size must be 24 or 2,6, and keep your title sentence in the center of the article. Bold, and underline the title of your article as y

our main heading. It'll attract the reader's attention. 
2. Include Stats, Quotes, and Verses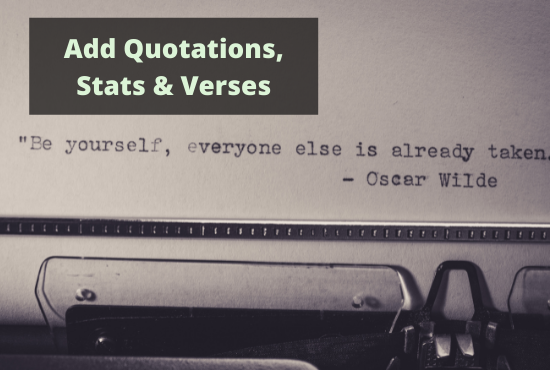 Quotes build the interest in the reader to read content more and more. Stats and Facts realize the reader that the information provided in the article is valid,d and well researched. Similarly, graphs, tables, references build the reader's trust for the content.
If any verse, quote,e, or stat is related to your article topic, you must include them in the paragraph. Always highlight these extra additions in your content because these lines attract immediately and impart a grateful impact on readers. 
3. Always Create a Unique Format 
Whenever you explore other websites related to your topic, don't follow the same formats already available on other sites.  You can use the information on other sites by making unique sentences but don't forget to spin the structure. You can create a unique design by replacing headings and changing the order of titles, adding more points in your article compared to others' content. 
4. Keep Paragraphs short

 
Avoid writing long paragraphs in your article. If you have,e then split them into 3-4 lines per paragraph. Long paragraphs build a messy impression iI the reader's mind. And that's the reason that clients don't like your work. If you want to be a successful freelance writer, then make your content well mannered and easy to read. 
5. Use Transition Words 
Transition Words are the words that combine the upcoming sentence with the previous one. For example, the  "As a result, this word represents the cause and effect Sense. The sentence lasts to "As a result" reflects a caus,e, and the correction after the word " As a result" is the effect. 
It would help if you used such words to create a storytelling article. Using transition words maintains the flow of content in the reader. He would know what's happening behind and what'll be happening in the next. Other transition words include But, Thus, So, Also, Therefore, Moreover and which, etc. Such kinds of words help in improving the Readability Score of your content. 
6. Always Write in Active Voice Tone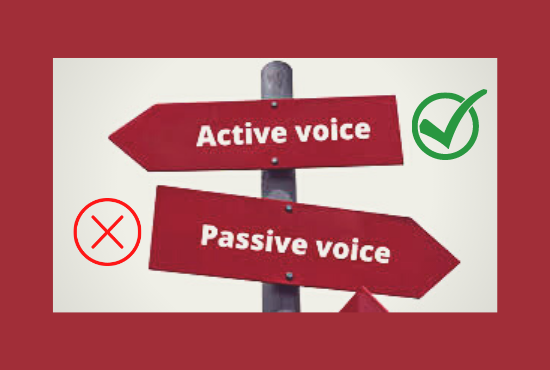 Writing in an Active voice tone improves readability score because when you write in an active voice manner, you'll give a clear idea to a reader about the subject and object. But if you'll write in a passive voice tone, the sentence will not give clarity of the subject. In this way, Reader will not know who is subject. For example,
Work is done (Passive Voice) 

He does his job (Active Voice)
In passive voice, you don't know who's done work or how's it done by either person or machine. While in the use of active voice, you're clear that any person does that work. If you want to be a successful freelance writer,r then forget passive voice tone while writing the content. 
7. Use Premium Tools

 
If you want to be a professional freelance writer,r then you must use Premium Tools to work on your project.  Invest a little amount and buy premium software to get excellent feedback from your clients. the software that is normally needed for a freelance writer includes: 
Grammarly.com is the best tool to check and correct all grammatical and punctuation mistakes in your content. It's also available as a  Chrome extension. This software doesn't permit you to check all errors in the free version. But in the premium version, you can make the  Grammarly Score of your content up to 99%. We recommend you to buy Grammarly Premium to be a professional freelance writer. 
To Buy Grammarly Premium, contact at WhatsApp Number: +923245984533. 
Turnitin Plagiarism Checker 
Turnitin is international software that's usually used to check Plagiarism in the content of any document. If you're thinking about using Turnitin to prevent plagiarism,m then don't worry! It's simple to us; you can visit the link below and understand how to use Turnitin. It's not a Free but paid tool. It would help if you also bought this paid tool to make your content writing 100% unique. If you want to buy Turnitin,n then contact at WhatsApp number +923245984533. 
It's also another best plagiarism checker tool that you can buy as Copyscape Premium. This software checks any copyrighted content on your website. To check content on this software, you've to upload your content on your website and then create a link to your content.
After pasting that link in the search bar of Copyscape, you'll be able to know whether your content is plagiarized or not. For freelance writers, this tool will prove to be the most beneficial.
Premium Quilbot is the Best Paraphrasing Tool for freelance writers. If freelance writers need to Paraphrase Content and make any content plagiarism-free, then use Quilbot. The quilbot is also available for free to use, but it limits the users paraphrasing only 125 words,s not more. In addition, it doesn't allow some other features like summarize, expand, creative paraphrasing, and extra synonyms in the  Free version. To use all these features, you've to buy Quilbot Premium. 
If you want to buy Quilbot Premium,m then contact at WhatsApp Number: +923245984533. 
This software is the best tool to make your title catchy and clickable. If you want to impress your clients by creating an attractive title, including the focus Keyword provided by your client, you must buy the Headline Analyzer tool.
In the first 14 days, you can use it for free. But after 14 days, it never lets your use all features like SEO score, powerful words suggestion,s, and other suggestions. You can buy it after 14 days to make your title catchy and SEO optimized. 
8. Optimization Of Article 
Most clients want an SEO Optimized Article for ranking on Google. So, it's essential to optimize your content by distributing specific keywords. 
Focus Keyword or Primary Keywords 
It's the main Keywordthath we use commonly in Title. So, you've to use this main keyword in a 10% ratio. For example, off you are writing an article of 1000 words, you can use primary keywords 8-10 times in the entire article. 
LSI keywords or Secondary keywords 
We should use LSI keywords or secondary keywords naturally. These are long-tail keywords linked with main keywords.
For example, if your main keyword is "content Writing course," then LSI keywords can be "content Writing course in Pakistan" or "Content Writing Course Price.". You can use them 1-2 times per keyword but naturally. 
Optimize your article in such a way and bold all keywords you've used in your content. That will help your client know that you've written an SEO-optimized article. That's it from this blog post! 
Final Words 
The main objective of a successful freelance writer is to get good feedback from clients. We've shared all tips and tricks of content writing that you can apply while writing content for your clients in this blog post. Whatever the topic, don't forget to use these techniques like presentation, SEO Optimization, Grammarly checked, and Plagiarism checked content. Again, if you desire to become an expert freelance writer,r then follow the above guidelines. You'll make great progress in the content writing Profession.