Are you interested in the e-commerce business? Do you want to choose the Amazon website to become a Virtual Assistant? You can become Amazon Virtual Assistant because this field has a vast scope, especially internationally. If you're working as a freelancer in an international freelancing market, you can easily rank by giving Amazon Virtual Assistant services.
Here is a step-by-step guide and a few tips & tricks that will help you to become a successful Amazon Virtual Assistant! Have a look!
But wait…
Do you know who Amazon Virtual is? What does Amazon Virtual Assistant mean?
What does Amazon Virtual Assistant do?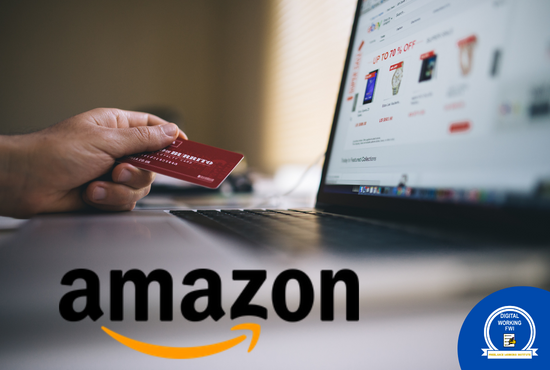 Amazon Virtual Assistant provides services related to selling on Amazon to clients. In this field, you have to provide services like keyword researching, keyword analysis, product hunting & product analysis, product sourcing,g, etc. Managing clients' Amazon seller accounts also comes under the services of Amazon Virtual Assistant.
Become a Successful Amazon Virtual Assistant
Here are some steps you need to follow to become an expert Amazon Virtual assistant:
Step 1: Learn Amazon Virtual Assistant
Get Amazon Virtual Assistant training with any Official institute that will guide you theoretically and practically. Amazon Virtual Assistant courses are available on international as well as local websites.
We recommend you learn Amazon Virtual Assistant Course from Freelance Working Institute, which provides the best freelancing courses in Pakistan. They practically trained you how to become Amazon Virtual Assistant and helped you get hired first by your client.
Step 2: Pick your market-specialized skills:
Before zeroing in on your specific market niche, you must explore a few factors. First and foremost, think about whether you will be working alone or as part of a team of virtual assistants; this will give you an indication of the level of assistance you can provide to clients.
Furthermore, you should consider the different kinds of clients you will collaborate with, as well as whether or not you will deal with them on an ongoing basis or just for a single project. Take into account any existing Amazon VA talents you may have and any other skills you may need to develop to work effectively with the customers you intend to attract using your services.
Determine the degree to which you want to be involved in the process personally and how receptive you wish to be to feedback. Consider what kind of revenue you would expect initially and how you might be able to increase it over time.
Step 3: Choose the VA service of your choice.
The services and the level of involvement you provide for your customers are entirely up to you. You can specialize in just one facet of the business, such as product searching, copywriting, or PPC advertising, or you can offer more than one service.
While deciding the services, you will provide for your customers. You should consider how common or uncommon those services are, how you will position yourself, and how you will build your worth as the authority in a specialized field of expertise. The demand for your services and experience will be directly proportional to this frame of mind.
Step 4: Create a Professional VA Resume
Create a current and professional resume that highlights your expertise, experience, and talents in a way that is easy to understand.
Step 5: Start with a Reasonable Price
While you are working on establishing your services, you should also think about the structure of the prices you will charge for those services. Consider that you are freelance subcontractors and not a regular employee when setting the prices for your work; as a result, most of your fees will be based on the amount of time you spend on the project.
Freelancers are not eligible for health benefits; you need to consider the overhead fees you will have to pay while working as an Amazon Virtual Assistant. These prices include the internet, office expenditures, software subscriptions, etc.
Step 6: Stay Active Online:
To work as an Amazon Virtual Assistant, you will need to ensure that you have a prominent online presence. Several platforms are dedicated to virtual assistant jobs, and you may also find work on Fiverr or Upwork.
Final Thoughts
Begin learning to become an Amazon Virtual Assistant as soon as possible if you want to take control of your financial future and professional trajectory. When you have finished your course, you will be prepared to begin a career as an Amazon Virtual Assistant since you will have learned all of the necessary skills and insider information from a group of experienced professionals.
Frequently Asked Questions
? – Is Amazon VA in demand in 2023?
Definitely! What do you need to do if you want your company to stay caught up in today's digital world? It's beneficial to have a virtual assistant. An expert Amazon assistant may monitor and verify your efforts to ensure that your listings are optimized. Using a virtual assistant, you can monitor your Amazon performance by checking your keyword rankings and the quality of your listings.
? – Is Amazon Virtual Assistant a good Job?
Because of the many advantages it provides to both workers and employers. Virtual assistance is a fast-expanding employment category. Instead of paying full-time workers or doing the work themselves, businesses can still save money and resources by contracting with virtual assistants.
? – What is the future of Amazon Virtual Assistant?
Remote workers have lower turnover rates, which has led to a surge in demand for virtual assistants. And if a virtual assistant leaves their position, it is often less costly to substitute them or with someone who possesses a skill set comparable to their own than it is to replace a conventional worker.
? – Which is the best Amazon Virtual Assistant Course?
Amazon Virtual Assistant Course offered by Freelance Working Institute is the best Amazon business course in Pakistan because you'll learn beginner to advanced levels of Amazon VA training such as product surfing, product sourcing, keyword researching, Amazon seller account, and other tips and tricks to succeed in this field.
? – Where can we find Amazon virtual assistant Jobs for beginners?
After learning Amazon virtual assistant Course, you can grow your profession by working on different websites like Fiverr, VANetworking.com, oDesk, Upwork, Indeed, Linkedin, 99 Dollar Social, Time, Freelancer.com, and guru.com, etc.
? – How to become Amazon Virtual assistant in Pakistan?
If you open and manage an Amazon Prime account, you can become an Amazon A. Upon mastering data analysis strategies for product sourcing and research, the next step is optimizing product listing. You can also become a successful Amazon Virtual Assistant by ranking products, managing Amazon PPC ads, and fulfilling orders for FBM sellers.
? – What is the expected Amazon Virtual Assistant Salary in Pakistan?
In Pakistan, an Amazon virtual assistant can expect a gross pay of Rs 763,242, which works out to Rs 400-500 per hour. They also receive a bonus of around Rs 11,067 on average. Estimated salaries based on a survey of businesses in Pakistan and their unnamed workers.
? – How much Amazon Virtual Assistant Salary is expected on Freelancing Platforms?
Amazon Virtual assistant Experts who establish their agency can yield over $5,000 per month, while beginners can make up to $1,000.