SEO Optimized Content Writing
Do you think that SEO Optimized content is challenging to write? SEO article writing is not the concept of Self-writing content. Instead, it is straightforward to understand. If you're also worried about your weak English, this information is all you need to know!
You will be surprised to know that you don't need to write a creative article in your own words. Instead, you need to follow some steps to generate unique and SEO-optimized content in the Freelance Writing Field. Let's commence!
How to write unique SEO Optimized Content for a website or blog post?  
Step 1: Search your Article Topic
In this step, you have to go to Google Chrome or another browser and write your provided topic on the Search Bar. For example, Your topic is " What is a Computer? "  You'll write this text as it is on Google and click on the search icon. You'll get many results on What is a Computer? 
Step 2: Explore and Read Top Articles
When you've done your Competitive searching on Google about your SEO article topic, you'll see that specific results will show in the form of websites. Click on the top 2 to 3 websites and explore their SEO optimized content about your topic " What is Computer " that they've explained about Computer. Note essential points and headings. 
Step 3: Take essential content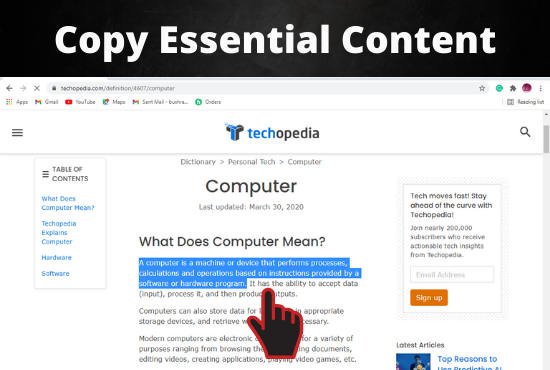 You can take actual content from top-ranking sites and copy that content separately on an MS word file.  Make a format of your SEO article according to word count. 
Step 4: Rephrase the Content Naturally
Now it's time to rephrase your copied content. Rephrasing means changing the copied sentence, such as changing the order of the sentence, synonyms of some words, changing punctuations, etc. Still, your rephrased sentence must look like a natural and grammatically correct sentence. 
Note: Don't copy any word in your sentence. After rephrasing the copied sentence, write a new sentence by typing yourself. If you rephrase the copied sentence and do not write in your typing, your copied words will show plagiarism in your sentence. 
Step 5: Create a Unique Format 
After collecting information from 2 to 3 articles, create a unique Format for your article. It's essential because Google ranks unique articles. Read your whole SEO article properly to check any visual error. 
Step 6: Check and Correct Grammar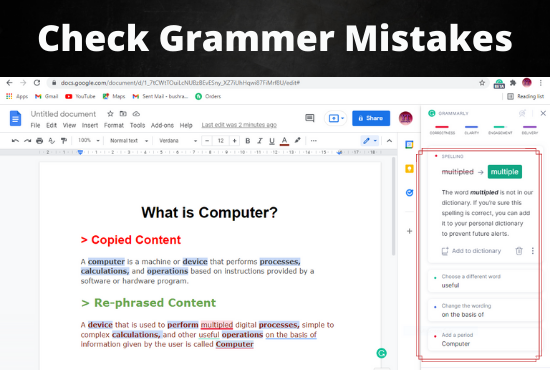 Don't worry about Grammatical mistakes in your article! You can quickly check and improve your grammatical mistakes with different tools like Grammarly, Duplichecker Grammer, Edubirdie, etc., but we highly recommend the Grammarly.com tool. 
Through this tool, you can see and correct your grammatical errors. It's a free tool, but you can also buy premium features! If you're in Pakistan and want to purchase a shared tool of Grammarly, then contact them to "Buy Grammarly Premium." 
How to check the Grammer of your article? (Video Guide)
Step 7: Check Plagiarism 
Now, it's time to check how unique your article is on Google. For this, you can use different plagiarism checker tools like Copyscape, Turnitin, Small SEO tool and Duplichecker, etc. But we highly recommend Copyscape Premium and Turnitin to check plagiarism of your SEO Optimized content, these are paid tools, but they never pledge you to disappoint your clients. If you want to "Buy Turnitin tool," contact us here by clicking on the text. 
How to Check Plagiarism of an Article? (Video Guide)
Step 8: SEO Optimized your Content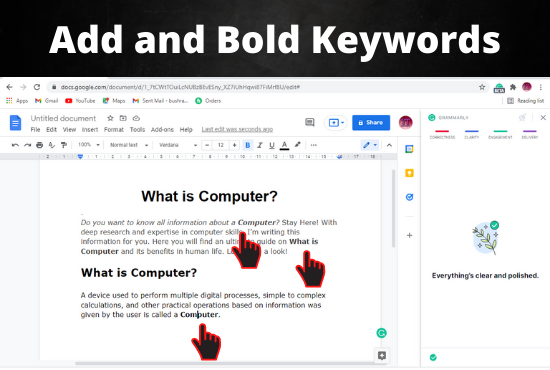 Insert your focus keywords and repeat your focus keyword after every 100 words. After that, insert LSI keywords as each for one or two times in your article naturally. As you can see in the picture of the SEO-optimized content example above. Plus, You can also analyze SEO through different article SEO Optimized content tools such as Yoast SEO, SEO Review Tool, Small SEO tool, etc. That's it! 
Your article is ready if marked as 100% unique from the Plagiarism tool and error-free from the Grammarly tool. Now you can submit your best SEO Optimized articles to your client without any tension! We assure you that you'll get excellent feedback from your client. 
Note: If you want to learn with a complete Video Guide on How to write an SEO article in 2021 then Join FWI
This course is all about SEO writing for beginners.
Final thoughts 
To sum up, it's straightforward to write SEO-optimized articles for beginners. Although there are a lot of benefits of content writing but plus point is that you can also write articles on your mobile as compared to a laptop. Keeping in mind all steps mentioned above, I hope you better understand how to write SEO-optimized content. In the end, we recommend you write in your writing style and format by changing format and sentences to avoid plagiarism.