There are a lot of free keyword research tools on Google but it's difficult to find best one!
For this, I looked at many keyword research softwares that offered a free version of their keyword research capabilities. The following five best free keyword research tools have been analysed to be the best after extensive testing and deep research. As they range from all-around greats to those created for more specific purposes.
Your workflow may be simplified and streamlined with the help of the best keyword research tools when they are used correctly. These tools simplify locating the appropriate keywords to target and providing the data you need to rank for those keywords. Let's know which is perfect one for you!
Google Keyword Planner 
If you want to rank your content on Google, no tool is better than Google Keyword Planner. It shows those Keywords that users on Google usually search for. That's why we recommend this tool is Free of cost to find keywords. It indicates keywords and gives stats about a specific keyword, such as search volume, keyword competition, and Ads or PPC information. Plus, you can also download all keyword details into an excel sheet. Get Google Keyword Planner Training!
How to use Google Keyword Planner
Please follow the steps below to use Google Keyword Planner for searching keywords:
✓ Go to GoogleAds.com and sign up there with your Gmail ID.
✓ After signing in, go to settings.
✓ Search "Keyword Planner" in this menu bar and then click on it.
✓ After clicking there, you'll see a page where you'll find two bars.
✓ On the left is "Discover New Keywords," and on the right is "Discover keywords through the website."
✓ You've to click on a tab (on the left side) "Discover New Keywords."
✓ Next, you'll come to a page where you'll see a search bar.
✓ Write your main keyword related to your business intent, Set the location as your country, and then click on "Search."
✓ Within one second, you'll get a list of all keywords with search volume, competition, and other ad-related data.
✓ You can also refine keyword data using a sidebar menu where you'll have to see different categories to exclude or include keyword data.
✓ After filtering your keywords, you can download this file as an excel sheet to your device.
AnswerthePublic.com
Undoubtedly, it's the best Free tool to research keywords and FAQs. It finds keywords and gives FAQ suggestions that people usually ask for. You can also download images and csv sheets of your researched keywords. One drawback of this tool is that it only shows some keywords' search volume and completion stat.
How to Use Answerthepublic?
Here, we can find keywords for our blog posts, YouTube channel videos, or social media posts. There is a great deal of software for this, whose name is AnswerthePublic. Follow the following steps to use this software:
✓ So, first of all, let's go to the official website pr answer jay by answerthepublic.com.
✓ We type the keyword. If you are related to a blog post, a video, or a social media post, type your topic (like bodybuilding).
✓ Next, you want to select a specific area/country. These three particular languages ​​are also preferred.
✓ Next time we do all this, click on the search engine, then we will find the selected keywords such as How, can, why, where, if, who, what, and many more topics.
✓ Find out your keywords here.
✓ And if you want, you can open all the keywords in Excel.
✓ You can download all keywords from the top right corner.
✓ You can open it in Excel.
That's it from this Tool. I hope this guide will help you find keywords for your website, blogs, youtube, and other platforms.
Uber suggest
Ubersuggest is a Free tool to find keywords for your website content. You can also find keywords density, volume, and other states. But you need to buy the premium plan of this software to see search volume and other conditions.
If you're looking for just keywords without any statistical data, then its free accessibility helps you greatly.
How to Use UberSuggest For Keyword Research?
This Tool offers a wide variety of keyword suggestions derived from the primary term you are researching further.
✓ You will be brought to the KW Ideas view by default; however, you can switch to the Related, Questions, Prepositions, or Comparisons opinions by clicking the corresponding buttons at the top.
✓ You also have the option to filter results based on Volume, SEO Difficulty, CPC, and Also included Keywords.
✓ You can view any individual keyword's volume, CPC, paid difficulties, and SEO difficulty.
✓ You may view the web pages that rank for a particular term by clicking the Search Results button to the right of the phrase.
✓ Researching one's competitors is made much easier with this useful function. You can discover the keywords that drive traffic to a specific domain or URL.
✓ You can sort the results based on Keyword Volume, SEO Difficulty, or included/Excluded Keywords.
✓ You can continue researching your competitors by viewing other pages that rank for a particular keyword by clicking the Search Results button to the right of each phrase.
✓ If you already have a concept of the kind of content you want to generate, this will be helpful to you.
Keyworshitter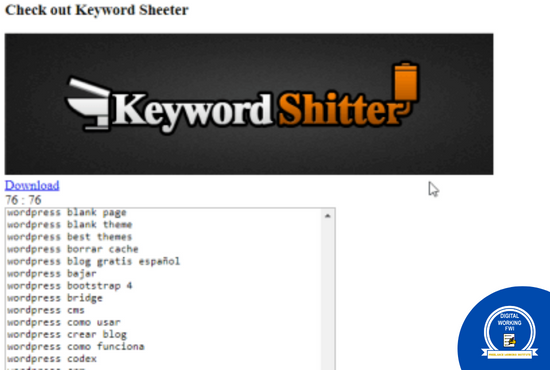 It's an unstoppable keyword generator tool. It shows thousands or even millions of keywords within seconds, and it continues even if you must cease to complete your keyword Research. It's also the best tool for content managers.
How to Use Keywordshitter?
✓ Go to keywordshitter.com.
✓ You will see a page containing a search bar where You've to enter your niche.
✓ After entering your niche or primary keyword, you will get unstoppable keyword ideas there.
Soovle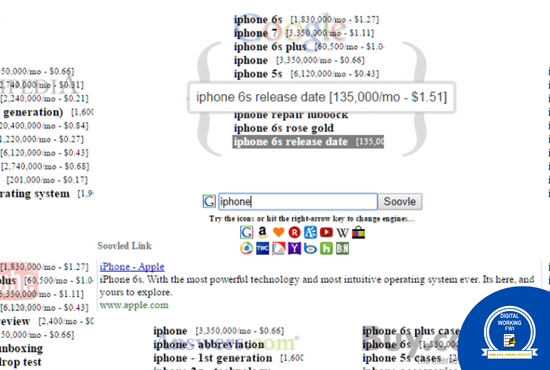 Soovle finds keywords for Google and other platforms like YouTube, Amazon, eBay, and others. It shows top keywords to you without any statistical data. You can copy from there and use it in your content.
How to use Soovle Keyword?
Here's a brief guide on how to use the Soovle tool to find keywords. Explore the following steps!
✓ You have to open Google chrome first.
✓ Or go to their website, whose name is soovle.com.
✓ After visiting this website, you will find a search bar where you can type your topic.
✓ Here you'll get Highly ranked keywords for companies like Google, Yahoo, youtube, amazon.com, Anwer, Bing, Wikipedia, etc.
✓ If you want to download it, then open it in excel.
✓ Or, one by one, you can see every keyword.
That's it from this Tool Guide!
Wrap Up
To summarize, if you are looking for one Best Free keyword tools to search Keywords, Google Keyword Planner is the best one. Because it is free of cost and provides many valuable keywords and other content ideas.
But if you are not satisfied with it, you can go for Ubersuggest, but this tool has some restrictions in the Free version. To know all information, you've to buy its paid version. I hope you have got a better understanding of this post. Share and Appreciate Us!